In today's world of healthcare staff shortages, high turnover rates and lowering satisfaction rates among healthcare workers, managing the workforce is increasingly becoming harder. 
Hiring a competent healthcare recruitment company will make it incredibly easy to manage your healthcare employees and solve  aforementioned problems that your hospital/medical institution might face. 
In this blog, you will be convinced why IFANGlobal is indeed the right choice when it comes to healthcare recruitment services. 
What are the benefits of hiring IFANGlobal? 
Save Crucial Time and Money 
IFANglobal helps you save time and money by finding qualified and suitable candidates for your vacancies. On average, talent acquisition professionals spend nearly 1/3 of their workweek (about 13 hours) sourcing candidates for a single role. IFANGlobal can reduce  this time and cost by providing you with a large pool of talented individuals.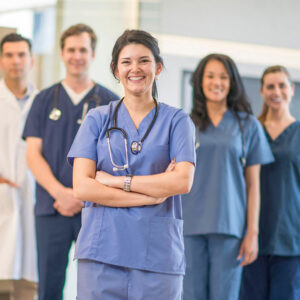 Beat Talent Shortage and High Turnover Rates
We help you overcome the talent shortage and the high turnover rates in the healthcare industry. 63% of recruiters say talent shortage is their biggest problem. Between 2015 and 2019, the typical health facility churned about 89% of its workforce. IFANGlobal helps you find and retain the best candidates for your needs.
Reap Benefits of Investing in your Staff
The quality and performance of your healthcare staff can be improved by providing them with specialised training and development programs. 
These programs prepare candidates for working in different countries and healthcare systems, as well as provide them with orientation, clinical training, cultural adaptation, language training, visa assistance, relocation support, and other services.
IFANGLobal's flagship program "Get me WIngs", helps in upskilling of nurses. Through this program nurses can provide better healthcare services to their patients leading to higher levels of patient safety and satisfaction. On the other hand, hospitals can benefit from increased levels of confidence and competence in their employees. 
How IFANglobal can help you improve your brand image?
Hiring a healthcare recruitment agency can increase your employer brand and reputation by attracting more candidates and clients. The most wanted benefits for candidates are:
Healthcare Insurance

Vacation/Paid Time Off 

Performance Bonus

Paid Sick Days 

401k Plan/Retirement Plan/ Or Pension

Flexible Schedule 

And Office Perks. 
Hiring IFANGlobal helps you offer these benefits and more to your candidates, as well as provide them with exceptional customer service and support. Enhance your image as an employer of choice and increase your referrals and recommendations from satisfied candidates and clients.

Why is IFANglobal the Leading Healthcare Recruitment Agency?
IFANglobal is a healthcare recruitment solutions provider that has been serving clients across the world since 1999. We have successfully placed thousands of nurses, physical therapists, occupational therapists, medical technologists, and other allied health professionals in various countries, including the US, Denmark, Australia, Canada, UK, Ireland, and more.
Here is why we reached the pinnacle of healthcare recruitment industry:

A standardised and rigorous recruitment process that ensures quality and suitability of candidates
We screen and evaluate candidates based on their qualifications, skills, experience, personality, and cultural fit. We also conduct background checks, medical tests, language tests, and other assessments to verify the credentials and suitability of candidates.
Specialised training and development programs that prepare candidates for working in different countries and healthcare systems. 
IFANGlobal provides candidates with comprehensive orientation, clinical training, cultural adaptation, language training, visa assistance, relocation support, and other services to help them transition smoothly and successfully to their new work environment.

An exceptional level of support and management that facilitates the transition and retention of candidates. 
Dedicated account managers and coordinators are assigned to each client and candidate to provide ongoing guidance, feedback, and assistance throughout the recruitment and placement process. Regular communication and follow-up with clients and candidates is maintained to ensure their satisfaction and performance.

Testimonials and feedback from satisfied clients and candidates that demonstrate our professionalism and customer service. 
Along with that, we have received positive reviews and recommendations from many of our clients and candidates who have praised our quality of service, responsiveness, transparency, efficiency, flexibility, and results.
IFANglobal is your trusted partner for healthcare recruitment solutions. Contact us today to find out how we can help you meet your human resource goals.