The Wrath Of Covid-19
The COVID-19 pandemic is exposing health & treatment imbalances in the global healthcare workforce, infrastructure and distribution network. 
The public and private healthcare systems are undergoing modifications to adapt to rapidly changing needs. 
As of August 2021, there are a total of 204,158,425 people who have been infected by COVID-19 globally. However, the industry has proved its resiliency and capability to bring new technologies. But the crisis is unlikely to get over. The sector's capabilities must continue to meet the requirements set by COVID-19 as well as the economic consequences of its implementation. 
Despite the fact that many sectors are experiencing enormous change, medicine and healthcare are heavily damaged due to the nature of the problem. To keep up with the pace, the pharmaceutical sector is facing severe difficulties in vaccine production and their distribution along with meeting the demand of medicine production.
Similarly, hospitals and healthcare workers are coping with the global problem of keeping COVID-19 patients safe due to a lack of adequate necessities, huge caseloads per day as well as increased financial difficulties in some circumstances.
The existing established norms and operational best practices are being reviewed by the Department of Health Services. Simultaneously, the hospital management is assisting in the provision of both emergency and routine treatment by implementing new initiatives such as recruiting more experienced professionals, keeping a proper check on vaccines, beds, and other healthcare services. They are also considering what the future of healthcare provision will be like in the post-COVID-19 times.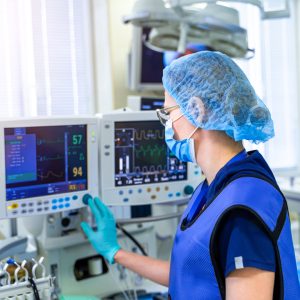 PRESENT SCENARIO OF HEALTHCARE INDUSTRY:
It is necessary to know the current situation in order to comprehend the healthcare industry's future potential.
In the healthcare industry, there have been recent momentum shifts. These improvements can be seen in the design and construction of facilities, the training of healthcare professionals, the placement of critical care equipment, and the best patient care settings.
FUTURE OF HEALTHCARE INDUSTRY AFTER COVID-19:
Parts of the healthcare ecosystem are expected to operate in various ways in the coming years, given the rapidity with which recent changes have occurred. In order to keep up with the industry's evolution, healthcare organizations need to consider developing their own new innovation goals which must be time-bound and measurable as the crisis unfolds in many parts of the globe. Cost pressures on healthcare systems are expected to rise in the future years as a result of both rising health needs and macroeconomic issues.
The following are some ways in which the global healthcare industry can be recognized in the post-pandemic world:
Consumer happiness, treatment outcomes, health tracking, and monitoring could all benefit from the implementation of new digital tools and services. 
Telemedicine, AI-enabled medical devices, and blockchain-based electronic health records are just a few examples of digital transformation in healthcare that are entirely reconstructing the healthcare sector. 
The health journey of each individual is unique. Providers of health care should be aware of this and tailor their services to make each visit a unique health experience.

Organizations should exhibit consistency, openness, and most importantly, empathy in how they function in order to keep or even re-earn customer loyalty.

Training of each medical staff has become of utmost importance going ahead. Hospitals will prefer a workforce who are emotionally and mentally ready for any kind of surfing emergency in the near future.

The hospitals are rethinking their staffing requirements. They are making sure to have ample staff for such critical times at their disposal to avoid any gaps in providing healthcare to the patients. 
These are some of the changes that the healthcare industry should consider in the near future in order to stabilize their situation and make their patients comfortable with all procedures while adhering to all protocols.
How can IFANglobal help the healthcare industry in remaining productive?
We recognize the problems in medical distribution networks and believe that in the COVID-19 phase and beyond, flexible digital technologies and services can help healthcare organizations create value. As a result, IFANglobal provides training to nurses and medical professionals for them to become industry and emergency-ready. The hospitals are greatly benefitted as they have a stronger and more dependable workforce.
With our assistance, hospital executives may simply escape the healthcare staffing crisis. In addition to permanent hiring, we provide employment flexibility through temporary staffing options, which allow you to hire nurses for 12 days each month with low recruitment costs. With IFANglobal taking care of the initial nurses' screening and interview, hospitals save ample of their time and energy.
Given some of the issues we've experienced with public health crises, we at IFANglobal believe that healthcare staffing is vital, not just for medical organizations but for the entire country. There's a lot to be learned from previous situations but when experienced candidates are needed on a regular basis, a reliable source is essential. That's what we specialize in at IFANglobal. Learn more about us and how we can support your organization with its next steps. To know more click here.