Neurosurgery remains one of the most competitive specialties in the United Kingdom. 
There were about 453 Consultant Neurosurgeons in the UK till March 2020.
As per the data, in May 2021, about 362 consultant neurosurgeons were working in the NHS in England.
What is Neurosurgery?
Neurosurgery is the science of nerves, a field of study concerned with diagnosing and treating patients with central nervous system disorders, peripheral nervous system, autonomic nervous system.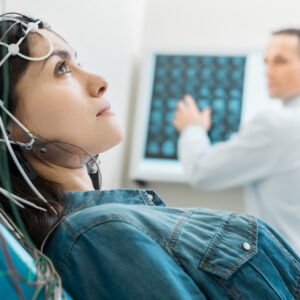 How crucial is a Neurosurgeon?
There is more to neurosurgeons than just brain surgery. They work with the entire nervous system that starts with the brain, not just the brain and all the other areas of the body.
Besides their routine work of carrying out surgical operations on the patients having issues with the brain, neck or spinal cord, neurosurgeons also extend their help to other physicians in order to reduce or avoid nerve damage during any of their medical procedures.
How to become a neurosurgeon in the UK?
The pathway to success begins with securing good academic marks, followed by medical school.
Let's dive deeper and understand the in-depth process to become a neurosurgeon in the UK. 
Outstanding GCSEs and three A or A* passes at A level, including chemistry, for a five-year undergraduate degree in medicine. Several medical schools also ask for biology, and some may demand maths or physics.   
After securing an undergraduate degree with a rigorous and extensive study period, undergraduates may opt for a postgraduate degree. They will have to clear the interview and admission test for the four-year-long postgraduate degree in medicine, besides demonstrating the NHS values such as compassion and respect.
Foundation Training Programme
After the completion of an undergraduate medical degree, the next step involves the two-year Foundation Training program.
After completion of the Foundation Training Programme, individuals can apply for paid specialty training to become neurosurgeons, which will eventually take at least eight years.
Professionals can take the academic route during training and spend some time on their extensive Ph.D. research. Additionally, professionals can avail part-time training due to health reasons or family responsibilities.
Registration and Licensing in the UK
Anyone who wants to practice medicine in the UK must register with the GMC first. There are three types of GMC registration; provisional, full, and specialist/GP.
Provisional Registration
Only doctors completing the first year of foundation training can get provisional registration.
Full Registration
Depending on the medical qualifications, one has to apply for full GMC registration with a license to directly practice or sit in exams to showcase the necessary skills and knowledge needed for the role.
Specialist Registration
With the Certificate of Eligibility for Specialist Registration (CESR), overseas doctors can be added to the specialty or GP register without completing the UK specialty training posts.
For that, applicants must provide a detailed portfolio of their experience, skills, and knowledge.  
Now that we have defined the registration musts, let's delve deeper into what healthcare institutions look for in a neurosurgeon in the UK. 
What do healthcare institutions in the UK look for in a Neurosurgeon?
Neurosurgery is a complex field of study, and therefore before hiring a neurosurgeon, there are specific skill sets that healthcare institutions in the UK want to be sure of.
Let's understand what exactly institutions look for in a neurosurgeon.
Understanding of Neurology
Neurology is perceived to be the most challenging subject among all others. Therefore, healthcare institutions want to determine whether the neurosurgeon has the mandatory expertise and a thorough understanding of the subject or not. 
Verified Credentials in Overseas Hiring
Apart from knowledge about neurology, if healthcare institutions are looking to hire from overseas, they tend to give preference to candidates with pre-verified credentials as it cuts down the hiring time without losing skilled candidates.
High level of manual dexterity 
Healthcare institutions invest a lot of time and money when they hire. Hence, they want nothing but the best person for the job. 
Neurosurgery is complex in more ways than one, and neurosurgeons have to be precise and meticulous in their day-to-day work. Therefore, a high level of manual dexterity is a must-have in this profession.
Language Proficiency
Language is a significant factor when institutions decide on who to hire—being language proficient opens up a range of professional opportunities. Therefore, when healthcare institutions hire a neurosurgeon, they review a candidate's language proficiency level. It can be determined with the help of a two-part Professional and Linguistic Assessments Board (PLAB) test.
Quick Thinking & Information Gathering Abilities
Since most neurosurgeons spend a lot of time in surgeries, they must display quick thinking and problem-solving abilities during their routine procedures. As a result, healthcare institutions look for neurosurgeons who can work in a high-pressure environment and aggregate and use scientific information to deliver the best outcomes.
Calm Temperament
In the healthcare sector, professionals often have to go beyond the call of duty. Being a neurosurgeon is not an easy job. Therefore, they need to be calm and composed since there are numerous high-stress circumstances where they have to showcase the ability to work well under immense pressure.
Great stamina
Neurosurgeons must have a lot of patience, especially since surgeries could go on for hours and hours. Additionally, a good amount of physical stamina will be equally crucial for lengthy medical procedures.
Great Communication
Undergoing surgery is scary for patients and their family members. They often bombard the neurosurgeon with their questions. In such a scenario, the neurosurgeon is required to calm them down and explain to them the current condition and post-surgery treatment. Thus, communication plays an extremely vital role here. 
Conclusion
If you are a healthcare institution looking to find a neurosurgeon for your organization in the UK, then IFANglobal can assist you in finding the right one.
We have a steady pool of diverse talent matching the attributes we just mentioned above. 
With vast expertise in healthcare recruitment, IFANglobal has been helping institutions fulfill their staffing needs across the globe.
IFANglobal sources the best talent from the UK, USA, India, Philippines, Singapore, UAE, Canada, Ireland to bridge the widening gap between healthcare institutions and qualified professionals.
Reach out to us and help us solve your staffing needs with our recruitment solutions. To know more visit: https://ifanglobal.com/