The healthcare sector has been evolving quite rapidly, and institutions across the globe need qualified nurses to fulfill the requirements of the healthcare sector.
According to WHO, approximately 27 million men and women comprise the global nursing and midwifery workforce, about 50% of the global health workforce.
The nursing profession is in demand, which is only increasing with time. However, for nurses (coming from a non-English speaking country) to land a job in a foreign country, they need a basic understanding of the language to communicate and function. Hence, besides OET, nurses can clear advanced IELTS to prove their English language abilities.
In the blog today, we'll highlight the advanced IELTS exam for nurses and offer a step-by-step guide for its preparation.
IELTS (International English Language Testing System) is a prominent English language proficiency test designed to check the proficiency of an individual wanting to pursue higher education or to seek a job in a foreign land. Hence, the nursing candidate must demonstrate the ability to speak, read, and write fluent English and effectively communicate with patients and coworkers.
Academic IELTS (International English Language Testing System) is a mandatory test that nurses must pass with satisfactory scores. 
For The UK 
The NMC (Nursing and Midwifery Council) accepts applications if candidates secure a band of at least 7.0 overall, with a 6.5 score in writing and 7.0 each in reading, listening, and speaking sections.
The IELTS UKVI test is approved by the UK Home Office for work, study and migration purposes.
For The US 
To become eligible for a US visa, a nursing candidate from non-native English-speaking countries must achieve 6.5 overall and 7.0 in the speaking section to meet the minimum eligibility requirements.
Now that we know the qualifiers for nurses, let's have a look at what is needed to master the IELTS exam.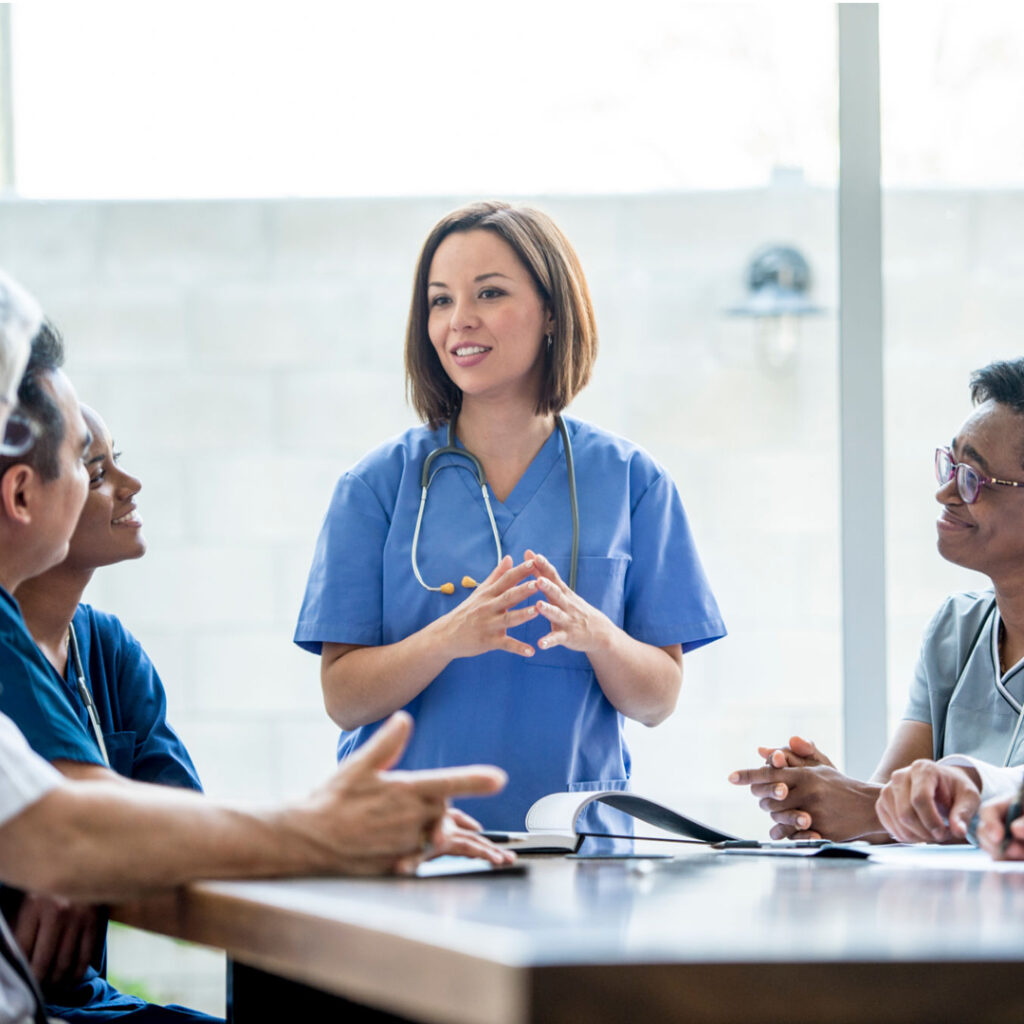 IELTS Academic Test Format
(A) Listening (30 minutes)
The listening section consists of four parts with ten questions each. It is designed so that the answers appear in the order they are heard.
Part 1
A conversation between two people is set in an everyday social context.
Part 2
A monologue set in an everyday social context, e.g. a speech about local facilities.
Part 3
A conversation between up to four people set in an educational or training context, e.g. a university tutor and a student discussing an assignment.
Part 4
A monologue on an academic subject, e.g. a university lecture.
(B) Reading (60 minutes)
The reading section consists of 40 questions to test the candidate's skills, which include reading for gist, main ideas, detail, skimming, comprehending logical arguments, and recognizing writers' opinions, attitudes and purpose.
The Academic version contains three long texts, descriptive and factual, discursive and analytical.
(C) Writing (60 minutes)
The writing section of the IELTS paper includes a couple of tasks. The topics given will be of general interest.
Task 1
In this section, the participant will have to explain the information in their own words as per the given graph, table, chart, or diagram.
Task 2
The candidate must write an essay responding to the point of view, argument or problem in a formal style.
(D) Speaking
The speaking section evaluates how the candidate uses English while speaking and lasts between 11 to 14 minutes with a trained and certified examiner.
Part 1
The examiner will begin by asking general questions, for example, about the candidate, their personal & professional life, studies, and interests. The first part is for about 4 to 5 minutes.
Part 2
The candidate will be given a card with a topic and asked to talk for about 2-3 minutes. But before that, the participant will have about a minute to prepare for it. The examiner will ask one or two questions on the same topic.
Part 3
The third part is a two-way conversation, and the examiner will continue to ask further questions about the topic given in Part 2. This part can be anywhere between four and five minutes.
The Academic Speaking test is either conducted on the same day or a week before or after the rest of the tests.
Cost Of The IELTS Academic Test
The IELTS Academic exam fee ranges from $140 to $310 and is subject to change.
Benefits Of The IELTS Academic Test For Nurses
A good score increases a candidate's chances of visa approval.

Globally recognized test, trusted by the immigration authorities.

Helps candidates enhance their communication levels to study or work in a foreign land.

Adding IELTS to the CV can help nursing candidates better their career prospects and stand out among international recruiters.
If you are a nursing candidate looking to work abroad, then Academic IELTS has all the benefits to stand out among international recruiters and is a necessary step in your journey to land a job. 
IFANglobal is a global healthcare recruitment agency that guides nursing candidates for the Academic IELTS exam and helps them stay ahead of the competition. Additionally, IFANglobal is helping nurses through its unique program 'Get Me Wings' and training them for better job performance.
Connect with us today, submit your resume and take your career to another level with IFANglobal.
View all our job openings here.