You must have heard a lot of advice on what to do to pass an interview with flying colours. 
Especially when it is a nursing interview with an international recruiter, you are bombarded with a lot of DO's from the internet and from friends. 
But do you know WHAT NOT TO DO in a nursing interview?
Yes! That's equally important. 
So, we are here to guide you and help you in your journey as a healthcare professional.
But before we start, we at IFANglobal wish you all the best in your interview preparation.
Now coming straight to the point.
Overseas healthcare employers are continuously recruiting and adding international talent to their existing workforce, making it more diverse, to take on future healthcare challenges while improving patient care.
If you are a healthcare professional who wishes to work overseas and wants to be part of an international institution's diverse workforce, then there are certain things that you must keep in mind.
Because, one mistake could cost you a great opportunity and all your preparation will go in vain.
Let's begin, not what you should do but what you shouldn't do to have a successful interview.
Being Overconfident & Having No Preparation At All
Confidence matters, but overconfidence?
Think Again!
It can well prove to be a deal breaker.
The recruiter has most probably interviewed thousands of candidates from around the world already. So a know-it-all attitude is a big 'NO'.
Recruiters wish to know how well you'd fit in the role you are being interviewed for and how your skills and knowledge would assist their organisation in taking new challenges head-on.
The key to a successful interview — Never undersell yourself but never oversell yourself either. 
To exude confidence, begin by holding on to your nerves and preparing well in advance before the big day.
You might have all the credentials to make the cut, but everyone needs some preparation because the lack of it can cause more harm than good.
So, professionals, take note and put your best foot forward.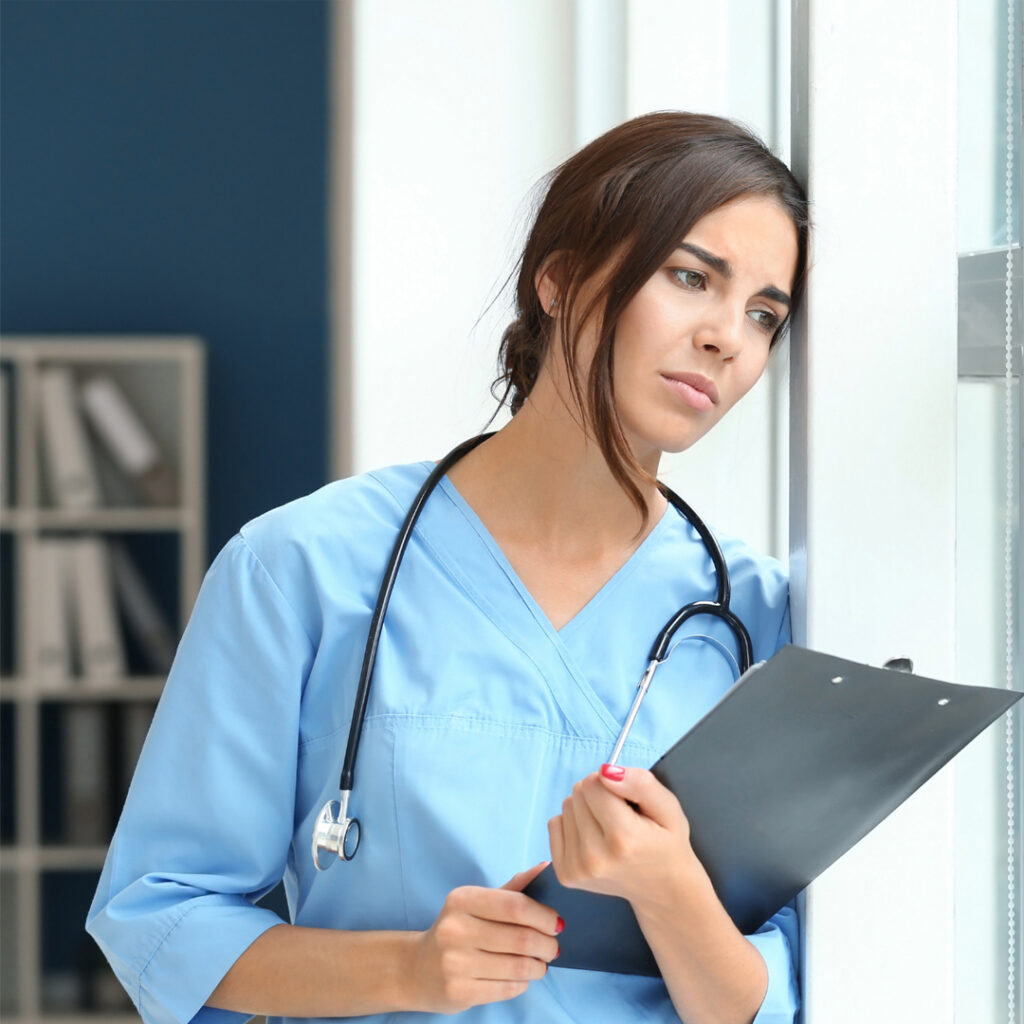 Lack Of Background Research About The Employer
Sure you don't want to be in a spot and left clueless if the recruiter asks you, "Why do you wish to work here"?
You won't be able to answer if you are not well-acquainted with the background of the facility you are giving the interview for.
Having a good knowledge of the organisation, its services, and its achievements show your interest in knowing the organisation and the opportunity it offers.
So, do not forget about this crucial element during your interview preparation.
Sharing Fabricated Professional Experience 
Healthcare is a serious profession where a single mistake could cost lives, and interviewers are well aware of what kind of professionals their organisation needs.
Only share your legitimate experience, and talk about your skills and qualities with enough examples. 
For e.g., Talk about any emergency case you handled or a close patient call you had to take with your quick-thinking ability and how.
Bad-Mouthing Your Previous Employer
No matter how your experience was in your previous organisation, presenting a negative image of your company would speak more about you than your last employer.
Refrain from bad-mouthing at all costs. It doesn't reflect well on you; instead, focusing your energy on listing your achievements would give a positive impression about you as a worker.
Leave Everything To Rehearsed Answers
Don't let a scripted or rehearsed answer fade away your achievements. 
For recruiters, authenticity is one of the biggest factors while carrying out the recruitment process. 
For Eg, If the employer wishes to know what really motivated you in the first place to join such a demanding profession, then tell them what genuinely encouraged you instead of giving them answers that you saw on the internet.
Avoid cliche answers and tell them exactly that distinguishes you from the rest of the candidates.
Conclusion
It is important to avoid these red flags at all costs, and you'll be on your way to securing your dream job with an international healthcare organisation. 
Healthcare is a dynamic, rapidly-evolving industry that significantly contributes to the world economy. From the growing technology market to patients' demand for quality services, healthcare facilities need talented professionals to fulfil the rising demand.
Even though the competition among healthcare professionals is fierce, international healthcare recruiters are leaving no stone unturned to find the best-suited professional for the job from different countries.
If you are a healthcare professional who has a dream of working abroad but doesn't know how, when and where to start, then IFANglobal can guide you.
From preparing you for your interviews to helping you with pre & post job placement, IFANglobal takes care of everything.
IFANglobal has been continuously working with healthcare organisations across the globe, successfully placing over 20000+ healthcare professionals in top hospitals in UK, US, IRELAND, DUBAI etc.
If you are interested in working abroad as a healthcare professional while earning competitive compensation, then IFANglobal is your trusted partner.
Need guidance on how to make it through?
Connect with IFANglobal today, and let us guide you in the best possible way.